Travel Books
99 Days to Panama - An Exploration of Central America by Motorhome. How a Couple and their Dog Discovered this New World
Alaska/Yukon Photo Books - by Kathleen M.K. Menke/Crystal Images Photography and Publishing "Haines for All Seasons--Northern Exposures Reflecting Our Bond o the Land and Each Other" "Alaska/Yukon/Arctic Light--Gifts of the Wild"
America's Living History-The Early Years - A travel guide to America's Premiere historic Destinations ISBN: 9780979259807
Australia Calling - the RV Travel Handbook - detailed Route Notes on every major Australian Highway can be seen on our website
Cha-Cha & ZEE -- Family Travel Home Page - Cha-Cha & ZEE Explore The United States. Two macaroni penguins give kids an adventure in their favorite destinations. Their first stop is Washington, D.C. Join them as they tour huge government buildings, admire beautiful monuments, and investigate wonderful museums. The second stop is San Antonio, Texas. Learn the cities' histories and explore their treasures. Join the adventure!
Connecticut Travel Guidebook - Cat Tale Press Inc. presents its debut travel guidebook, Consummate Connecticut: Day Trips with Panache. It is packed with local color, treasured regional history, quirks and customs. The 350-plus-page paperback features popular attractions, myriad dining options, overnight accommodations, shopping venues, maps, photographs, index and so much more!
Costa Rica Travel Guide - Explore Costa Rica - Site includes photo tour, tips, itinerary, and updates. Also guides to Barbados, Puerto Rico, the Virgin Islands
Food Booth, The Entrepreneur's Complete Guide to the Food Concession Business - Learn the inside secrets of selling food at fairs, festivals and special events.
Have Dog Will Travel - Specializing in pet-friendly guidebooks for people who want to travel - with their dogs! - throughout California and the Pacific Northwest
One Wheel Many Spokes - USA by Unicyle
Pack it Up - Traveling Safe in Today's World
Road Trip USA - Road Trip USA is an Avalon Travel Publishing series.
Rving Solo Across America, Author: Lois Requist : A renegade's journey of discovery. Included: maps & routes! appendix of Advice, places to see & stay, with websites!
Teddy's Travels - America's National Parks - A travel guide to the National Parks for children, Teddy's Travels is filled with full-color photographs and graphics designed to engage with first-hand information, web addresses, check lists, journal and scrapbook pages and scavenger hunts. Join Tedrick de BearTM and Trefoni Michael Rizzi as they travel across the United States by way of their favorite National Parks and Monuments.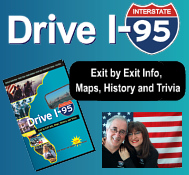 Drive I-95: Exit by Exit Info, Maps, History and Trivia
by Stan Posner and Sandra Phillips-Posner
An easy-to-follow map/guide to the I-95 making the drive to Florida safe, interesting, and stress-free, including fun stories and 30-mile overviews of upcoming services, radar traps and radio stations.