RLI Press is a division of Retirement Lifestyles, Inc., an Oregon Corporation founded in 1999 by Philip and Carol White. They provide publishing services, including book packaging and book marketing plans, in a variety of genres.
RLI Press is not currently accepting new manuscripts for publication, but will consider author marketing projects.


Carol is quoted in Publisher Weekly's Travel Trends in Books for 2008. (Scroll down to the section "It's the experience, stupid" )

RLI Press has elected to print this title on 30% post-consumer recycled paper with the recycled portion processed chlorine free. As a result, we have saved the following resources: 13 trees, 617 pounds of solid waste, 4,804 gallons of water, 1,157 pounds of greenhouse gases, 9 million BTUs of energy. Calculations from www.papercalculator.org RLI Press is a member of Green Press Initiative, a nonprofit program
dedicated to supporting publishers in their efforts to reduce their use of fiber sourced from endangered forests. For more information,
visit http://www.greenpressinitiative.org/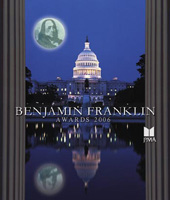 RLI Press was awarded the prestigious Benjamin Franklin Award by Publisher's Marketing Association in 2006 for their book "Live Your Road Trip Dream". Judged by a panel of book industry experts including buyers at wholesale and retail levels, librarians, book critics, design experts and independent publishing consultants, these books have been scrutinized by individuals involved in the very markets in which the books are competing.




They were also finalists in 2004 for ForeWord Magazine's book of the year – Travel for the same title.