Thinking of planning a GREAT Adventure? The Whites' road trip planner serves as a checklist for everything you need. In no time you'll start to get organized for your adventure-and excited about the once-in-a-lifetime trip you'll experience. No matter what destinations and activities you include in your dream, Phil and Carol White help you turn it into reality. It's the only road trip planner you'll ever need or want!
You'll learn…
How to cut your expenses with out making sacrifices
How to ensure a smooth and happy road trip
How to have bills paid on time while away
How to get over the guilt and leave your commitments and enjoy your adventure
What you can do with your house while away
Secrets to maintaining a peaceful and happy trip with another in close quaters
What to do with pets while you're away
How to locate and take advantage of all the discounts available to you
Why you should make it happen, and not just wait for "the best time"


Take a quick peek inside the book at one of the many tips offered.... Here Phil and Carol offer some planning ideas for your road trip dream:
Play at least one famous golf course in every state
Trace the development of our country through the railroad expansion
Follow the Lewis and Clark Trail (or some other historic theme)
Visit the headquarters location of every stock you own and see their operations up close
Ride all the famous roller coasters in the country
Visit historic Inns
"Antique" your way around the country
Visit all the famous baseball/football stadiums
Hike on all the famous trails (i.e. Appalachian, Pacific Crest)
Visit Museums in every state

The ideas are endless -- it is just up to you to fulfill your dreams.
---
"But how will I leave my life behind for such a trip?"
Doesn't that sound fabulous? But then that little nagging voice of "reality" sets in. And it asks all sorts of annoying questions, like
How can you afford to put enough aside for my adventure-and where will the money come in from while you're traveling?
How will you stay in touch with family and friends?
What happens to your house while you're off having fun for a year?
Who will take on all your responsibilities? From mowing the grass to taking care of an elderly relative, somebody's got to do it!
Maybe the most important question-how will you stand being around your spouse or traveling companion 24 hours a day, 7 days a week, for an extended period?
But that "reality" is not YOUR reality! Every one of those issues is actually easy to handle—if you know where to turn.
There's one easy way to get answers to all these questions and more-from people who've done it: Live Your Road Trip Dream, by Phil and Carol White is a comprehensive, but friendly, and easy-to-read road trip planner that helps you think through all the little details-before you load up and turn the key.
---
Look inside the ultimate road trip planner.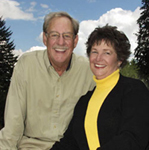 Phil and Carol White left their jobs, left their house, bought a van, and traveled around the United States for an entire fun-filled year. And now they've gathered up everything they learned about how to avoid the pitfalls and enjoy a glorious road trip - even when the unexpected happens (Carol's broken ankle and a collision with an uninsured motorist were two of the "surprises"). They've thought of everything you need to plan and enjoy the dream road trip of a lifetime-whatever that dream is for you!

Order
your Road Trip Planner, or call toll free from the US, 888-522-TRIP (888-522-8747). From outside the US, 503-784-4749.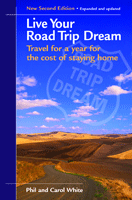 Phil and Carol White list many other things to consider, including handling family responsibilities and keeping investments on track…Financing, of course, is only part of such an adventure. There are discussions on planning your route, what to see along the way, and how to handle the inevitable emergencies. And there is the story of their own intriguing year.
- Richard P. Carpenter, Boston Globe
As a bonus, you not only get their helpful advice on planning-and paying for-the road trip of your dreams, but Part 2 of this value-packed 288-page road trip planner chronicles their own full-year road trip.

A practical and inspirational gift for RV owners, new retirees, or anyone who's ever dreamed of a cross-country expedition.
- Beth Harpaz, Travel Editor, Associated Press


Read comments from over 20 other major newspapers, travel and RV publications and websites.


---
View more fun trip photos
Want to know more?
View Our Visitor Resources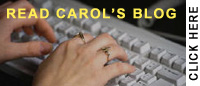 ---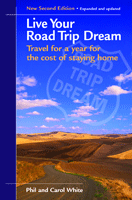 Order Now or call toll free from the US, 888-522-TRIP (888-522-8747).
From outside the US, 503-784-4749.

Included in the ultimate Road Trip Planner, you'll also find:
25 pages of useful worksheets: everything from setting the budget to a supply list of what to pack to what to expect from your renters (if you rent your house) as they move out and turn your home back to you when your "trip of a lifetime" is complete
A full index, making it easy to find any tip when you need it
As a bonus, you not only get their helpful advice on planning-and paying for-the road trip of your dreams, but Part 2 of this value-packed 288-page book chronicles their own full-year trip.